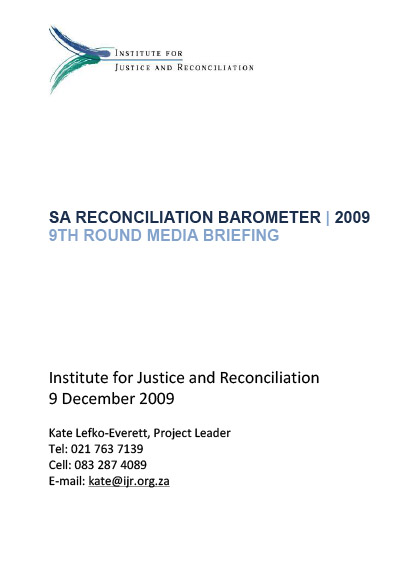 By: Kate Lefko-Everett
Pages: 28
Dimensions: A4
Date of publication:  2009
SA Reconciliation Barometer | 9th Round Media Briefing
Summary
The South African Reconciliation Barometer (SARB) is a nationally-representative public opinion survey, which has been conducted by the Institute for Justice and Reconciliation (IJR) since 2003. The SARB focuses primarily on public opinion related to socio-economic and political change and, in particular, how these impact on national reconciliation in South Africa. While recognising the conceptual complexity of reconciliation, and therefore the potential limitations of tracking progress through a survey, the SARB does attempt to measure some of its key quantifiable indicators across the South African population.
After seven years and nine rounds of the SARB, its outputs provide a multi-faceted perspective on the impact of key economic, social, and political indicators on reconciliation and the broader process of creating a truly inclusive society.
It is important to note that fieldwork for this year's round of the SARB was carried out in the two months leading up to South Africa's fourth democratic national and provincial elections in April. The year between the 2008 and 2009 rounds of the SARB saw, among other events, the recalling of Thabo Mbeki from the presidency, the resignation of fourteen members of Cabinet, the emergence of a new opposition political party, the Congress of the People (COPE), and the controversial incorporation of the Directorate of Special Operations (known as the "Scorpions") elite crime-fighting unit into the South African Police Service (SAPS).
Given the political fluidity of this period, the SARB, in line with other recent national public opinion surveys, has recorded declining levels of confidence in public institutions and political leadership among South Africans, particularly between 2006 and 2008. Furthermore, the finding that citizens have identified the differences between political parties as one of the most significant social cleavages in the country is a telling commentary on this particular time.
However, results of the 2009 SARB also reflect – across many indicators – a levelling off of the steep declines in opinion measured between 2006 and 2008. The 2009 SARB results provide insight into the public mood just prior to elections, and also provide an opportunity for the new administration in government to decisively address the issues and concerns of South Africans in policy and programming over the next five years.