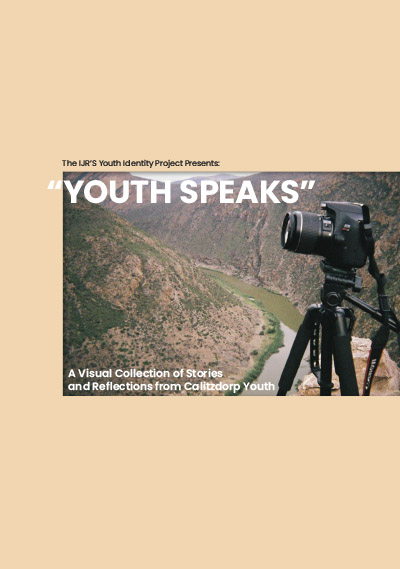 By: IJR Youth Identity Project
Pages: 24
Dimensions: 210 x 1485 mm
Date of publication: 2021
"Youth Speaks – a visual collection of stories and reflections from Calitzdorp youth"
Summary
The Institute for Justice and Reconciliation's (IJR) Youth Identity project has worked with young people across three of South Africa's provinces since 2018 on themes that include, human dignity, social (in)justices, identities, belonging, and reconciliation.
Since 2018, the Youth Identity project (YIP) sought to create opportunities for the strengthening of youth voices in policy and community processes. In 2021, the project expanded its objectives to include the advancement of self-acceptance and dignity among young people within the thematic context of identity and belonging. The project continues to explore the ways in which post-apartheid South African youth can work together toward the rebuilding and restoration of their personal and collective dignity by creating spaces aimed at reimagining what a dignified life can and should look like. This year, the YIP will aim to facilitate skills development and training that will further enable young people to grow and sustain themselves and their community.
The YIP uses animated dialogue, free writing, visual arts, and other creative tools to stimulate and deepen conversations on human dignity and the multiple ways it is harmed and bolstered in our communities. These conversations include the multi-faceted manifestations and interpretations of how human dignity is conceptualised in the South African psyche and interrogates the ways in which it differs from young people's lived experiences. In dialogue spaces, the project team, alongside young people, actively seek to build authentic relationships since it is our belief that strong relationships are foundational and necessary for collaboration, which is imperative for social transformation.