How can we dismantle racism in the Media and Advertising industry?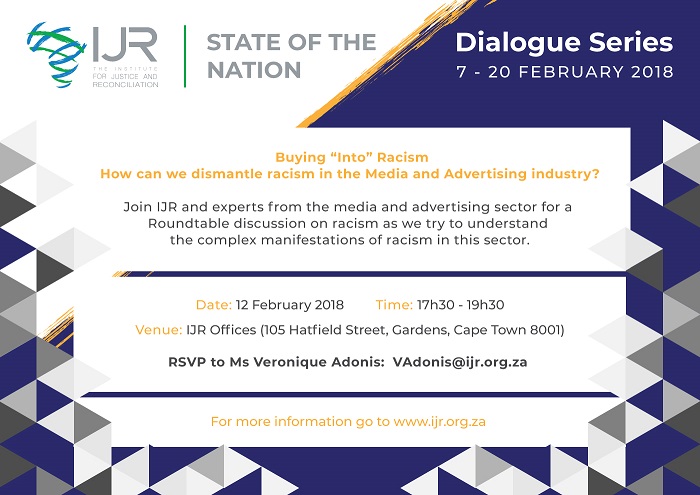 Date: 12 February 2018, IJR Offices
Time – 17:00 for 17:30
During South Africa's rainbow-nation years, the media and advertising industry, like all other industries that were inherited from the contexts of apartheid and colonialism, had a set of transformation targets set in order to undo the legacy of institutionalised racism. Indeed one key element of transitional justice is that of 'institutional reform' that shapes social change to be in line with a society's attempt not to repeat the injustices of its past.
The media was instrumental in advancing and entrenching the idea of non-racialism, an ideology to foster "nation-building" that we now see come undone with the radical shift, by the people, towards dismantling the unchanged systems of power that govern South African society. The media and advertising industry, however, is believed to be one of the most untransformed sectors of society. In terms of ownership and representation, this industry replicates a larger societal norm of exclusion and the preservation of power and privilege. Over and over again, we see racist representations flood our news feeds which directly speaks to a ruling class who have been socialised into racism, who continue to buy into an Apartheid-style racial hierarchy and who control what it is that we consume and how we are reflected. Mainstream media is an aspect of society, and often, it expresses racial prejudices through news angles, the framing of stories about black people as well as the lack of commitment to prioritise black voices. The media, in most instances functions on the basis of commercial interests which have always reinforced negative stereotypes and the ghettoisation of black people.
The IJR's Anti-Racism and Socio-economic Justice Projects, in partnership with the Anti-Racism Network of South Africa, seek to guide a conversation focused on the manifestations of the above in South Africa, the continent as well as the rest of the globe in order to:
Objectives:
understand the complex manifestations of racism in this particular sector
get insight on what young people are saying/thinking about racism in SA
learn about how different people are fighting racism in these spaces
add further nuance to the already complex and multifaceted discourse around racism in SA
create space for dialogue, the sharing of lived experiences as well as healing from trauma
create space for sector engagement, building relations for future collaboration
brainstorm ideas and solutions on how to continue dismantling racism